Bungee Jumping in India|
Bungee Jumping is one of the most thrilling sport/activity. Bungee jumping in India in this topic refers to Some of top Bungee jumping sites and locations in India. In this topic we will discuss about the bungee jumping so let's start:
Bungee Jumping:
First let me tell you something about the bungee jumping. It is simply a activity/sport of jumping from a high place while secured and tied with a taser of long nylon-cased rubber band around the ankles. And this sport is not for the weak hearts. While jumping you can also do acrobatics if you are experienced in this. People from around the world go to different places to do the jump as every jump has its own features of locations and the type of jump.
A J Hackett from New Zealand started this bungee jump from Auckland's Greenhithe Bridge in 1986. He has done it first time in the world. But now people from all around the world go for the world record jumps all around the world.
Sometimes accidents also occurs like the taser broke or stranded in the taser while jumping but the death rate in this sport is very less and it is also very less dangerous than Skydiving. This sport is almost in every country around the world. And eventually also come to India and many adventure lover and the brave heart people do this many times to enjoy the thrill of this sport.
So now let's start with the Bungee Jumping sites in India:
Top Bungee Jumping Locations In India:
5.) Jagdalpur :
It is in the state of Chattisgarh India. Once you go to this site you can have a lot of fun and an amazing Experience here. It's Height is around 30 meter which is very well suited for the beginners. This site is in it's primary mode so as the time goes it will bring you the more excited fun things along with the jumping.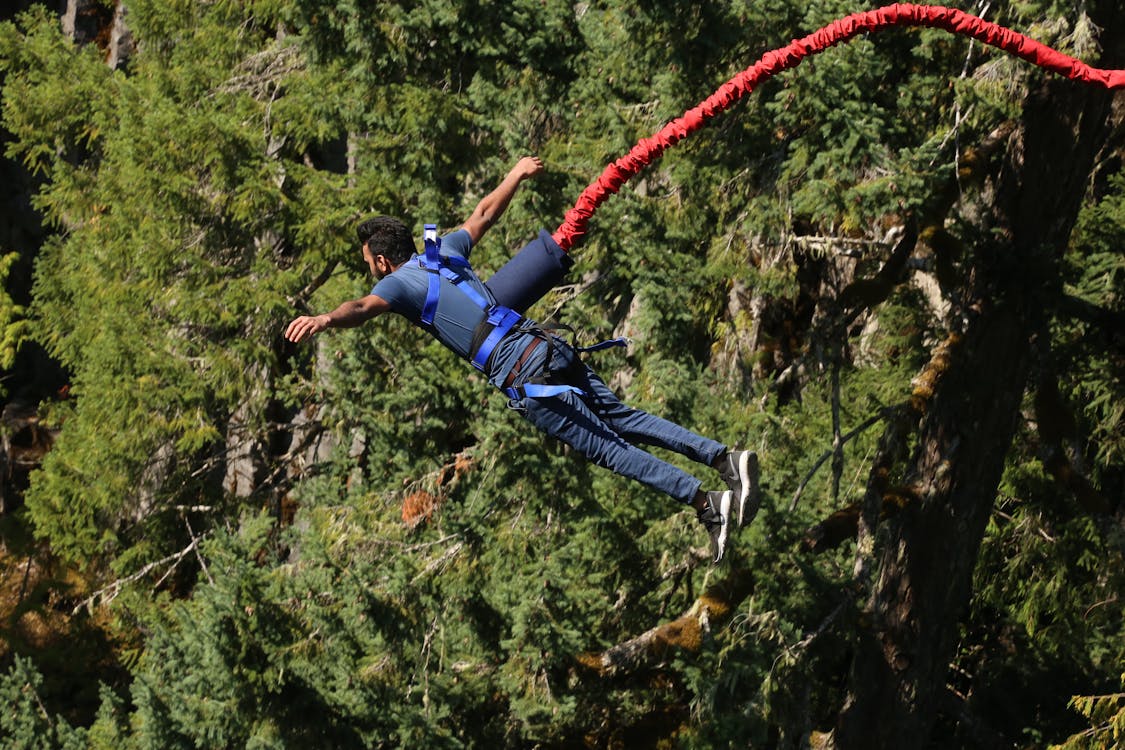 4.) Goa :
It is located near one of the very popular beaches in Goa i.e. Anjuna Beach. As you may know that Goa is all about the adventure and beach sports. Goa is also considered as party hub of India. The height of this jump is 25 meters. It has been installed here by an US based company. It is the lowest bungee site in India. It was conducted by the Gravity Adventure Zone. And once yo entered Goa you can expect lot of fun and relaxing beaches there. It is also one of the exciting sports in Goa.
3.) Bangalore :
It is also very famous as it is located in the famous city itself in the South India. The height of this jump is also 25 meters. But the location than that of Goa is very different and gives you a whole new experience all together. This Bungee Jumping is at Ozone Adventures in Bangalore. And the platform from where the jumper jumps is at the crane so it is not fixed at one place. And this makes it more interesting and different from others.

2.) Lonavala:
It is located in the state of Maharashtra and few miles away from Bollywood city Mumbai. It is located on the very beautiful place which is a small hill station in Pune. And the view from where you jump are also very beautiful. The height of this jumping site is 45 meters which will give you full thrilling experience of bungee jumping. Many tourist from all over the country and around the world come to experience this jump in Lonavala.
1.) Rishikesh:
This site is located in the Himalayan state of Uttarakhand. And once you visit Uttarakhand you will be mesmerized in the beauty of the hills. This site is India's Highest Bungee Jumping site with height of about 83 meters. So you can imagine the thrill in this Jump between the hills. Being the highest site many tourists from all around the world came to experience and check the adrenaline this site gives in them. You will have a lot of fun while doing this jump in Rishikesh.
So these were the some of the most thrilling and bungee jumping sites in India. I hope you all learn something new from this topic and if you like this then don't forget to share it. And if you want to give credits to this post click on any of the ads.
Thank You